A model finally made her national debut last year when she took to the Golden Globes and handed out Fiji Waters to other, known celebrities.
Kelly Steinbach, who uses the name Kelleth Cuthbert to model, quickly garnered attention on social media as she stood behind celebrities "photobombing" each of them. People on social media said she stole the show and dubbed her the "Fiji Water Girl."
Fast forward a month since the Golden Globes ceremony in January and Steinbach is now suing the owners of Fiji Water for unauthorized use of her photo.
Check it out: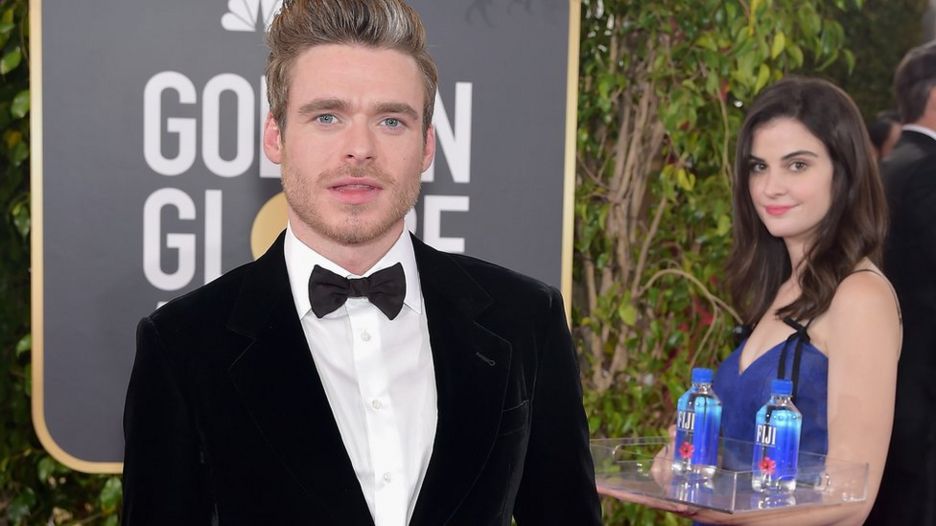 Getty Images/Via BBC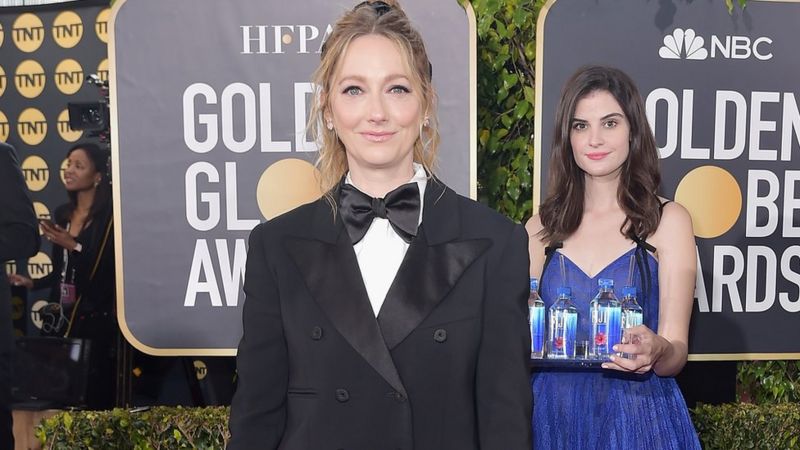 Getty Images/Via BBC
Stefanie Keenan/Getty Images/Via NBC News
Via BBC:
The Canadian model, 31, filed a lawsuit against Fiji Water and its owner, the Wonderful Company, in January after they used her likeness for a promotional cardboard cut-out.

---

She accused the company of unauthorised use of her photograph, likeness and identity for a worldwide advertising campaign.

In a countersuit filed on Friday, the owners of Fiji Water said Ms Steinbeich had knowingly signed an exclusive one-year deal worth $90,000 (£70,000) and accused her and her agents of "simple greed".

They described her lawsuit is a "blatant attempt to skirt her contractual obligations" and said she was now trying to extort them for up to $500,000 (£385,000).
In the countersuit, the owners claimed Steinbach is biting "the hand that feeds her."
"Ms. Steinbach has now bitten the hand that feeds her by suing the very company that is entirely responsible for providing her the opportunity and the means to capitalize on her fleeting 15 minutes of internet fame," the owners said in the lawsuit.
Defending her client, Kecia Reynolds, who is representing Steinbach, said she would not be bullied by the "billionaire owners."
"Kelleth will not be bullied by Fiji Water, the Wonderful Company, or its billionaire owners," Reynolds said, as BBC reports, citing CBS News.
Here's more from NBC News:
In its counterclaim, Fiji included what it said was an email exchange between the company and Cuthbert's agent that appeared to show her agreeing to $90,000 to be its "brand ambassador."

"Ms. Steinbach reneged on the valid agreement … and instead attempted to extort close to a half a million dollars from Fiji because she wanted a better deal than the original $90,000 she had originally accepted in exchange for such rights," the countersuit claimed.

The filing included an apparent clip of Cuthbert, in a Jan. 9 interview with Los Angeles TV station KTLA, when she is asked if she is now the new "Fiji Water ambassador."
She instantly became an internet sensation:
And:
Note:
The author of this article has included commentary that expresses an opinion and analysis of the facts.
DISCLAIMER: Views expressed in articles do not necessarily reflect the views held by Sarah Palin.
---