The first Democratic debates were a hard-fought opportunity for some candidates, especially those that are lesser known, to get on stage, in front of the public, and share why they should take on President Trump in 2020.
The opportunity rang true for some candidates as they had shining moments and saw respective bumps in the polls but, for several others, the first debates did little to share the hierarchy of the front-runners.
This is especially true of former Vice President Joe Biden, who was challenged on his race record during the second night of debates by fellow contender Kamala Harris.
Harris shared Biden's previous stance on busing African American students to recently integrated schools. Harris argued Biden was against the issue, painting him alongside several segregationist senators who Biden was serving with in the 1970s.
How did it affect Biden? Hardly at all, according to a new poll from ABC News/Washington Post, ABC News reports.
Biden is still the choice candidate among 23 other prospects: "In current preferences, 29% of Democrats and Democratic-leaning independents support Biden and 23% favor Sanders, with 11% apiece for Harris and Elizabeth Warren. The number of undecided potential voters has dropped sharply after the first debates, with gains in support for each of these candidates. Others are in the low single digits, at best."
And, when asked who would be the best candidate to take on Trump in 2020, most people who were polled sided with the former New Hampshire senator: "A broad plurality, 45%, says Biden has the best chance to beat President Donald Trump in the general election, but only 18% say he has new ideas, trailing Sanders, Warren and Harris alike."
Check it out via ABC News: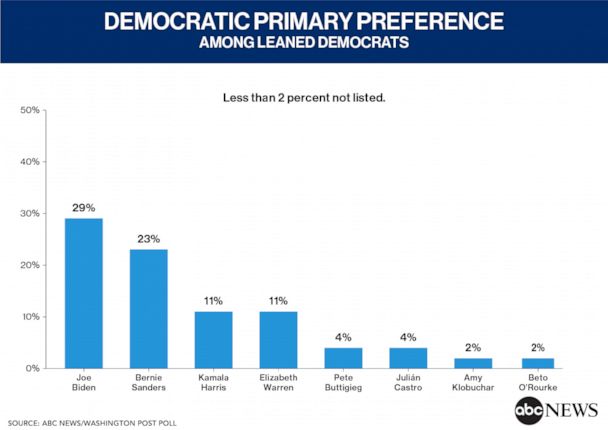 — Advertisement —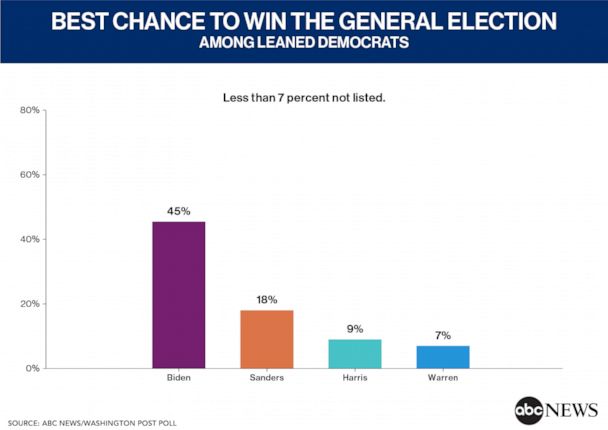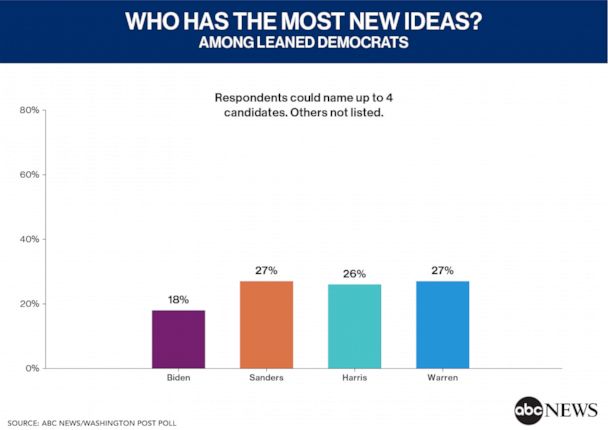 While Harris was unable to topple Biden's support, ABC News reports she did well to boost her own numbers:
At the same time, 41% say Harris stood out in her debate performance, easily the leader in this gauge, a wide 15 to 22 percentage points ahead of Biden, Sanders and Warren. And among those who actually watched both Democratic debates last week, the number picking Harris as a standout performer soars to 72%, well above any of her competitors.

An impact is apparent: among the half of leaned Democrats who did not watch either of the two nights of debates, just 5% support Harris for the nomination. Among those who watched the debate in which she appeared, by contrast, her support swells to 20%. That places her numerically second among Thursday-night viewers; Biden has 28% support in this group; Warren, 17%; and Sanders, 15%.
The next Democratic debates are July 30 and 31 in Detroit.